Weather forecasts
Today: Cold and windy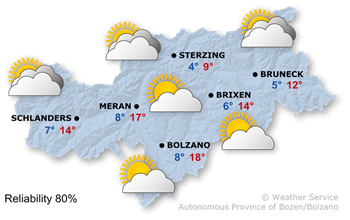 During the day, the precipitation in the north will decrease and towards the south the clouds will dissolve. A cool north wind will blow. The maximum values lay between 8° in the Wipp valley and 18° in Bolzano.
---
Tomorrow: Sunny weather
At first widely sunny weather, during the course of the day some clouds may appear from the south-east. The wind will decrease everywhere. Top temperatures between 12° and 18°.
---
Next days Weather forecasts: At the beginning of the week variable cloudiness