Weather forecasts
Today: Clouds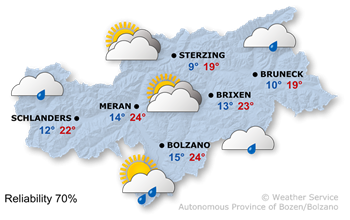 Clouds will prevail in the sky with at most a few short sunny spells over the wider valleys. The probability of showers will gradually increase from the morning. In the evening, the rainfall will end. Temperatures in the afternoon will reach values between 17° and 24°.
---
Next days Weather forecasts: Gradual improvement
Tuesday will begin with local low cloud formations. In the morning the weather will be sunny, while in the afternoon the probability of showers will increase slightly, especially in the Dolomites. Mostly sunny weather is expected on Wednesday, Thursday and Friday with rising temperatures. During the afternoon, showers or lokal thunderstorms will still be possible.