Weather forecasts
Today: Sunny weather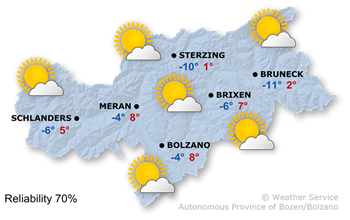 Sunday very sunny. Mostly clear sky in the forenoon, some high clouds passing from North during the afternoon. Frosty i the morning. Top temperatures between 1° and 8°.
---
Next days Weather forecasts: Sunny weather
Monday at first sunny weather, later unstable conditions in the North with light snowfall on the border to Austria. On Tuesday sunny weather. Sunny weather on Wednesday in the South, changeable in the northern parts.