Terms and conditions
We ask 50% of the total amount as deposit to fix the reservation.
If you have to cancel for any reason, we will keep the deposit and not charge any cancellation fees.
If the places you cancelled are booked by someone else, you can use the deposit you paid for up to one year.
Travel insurance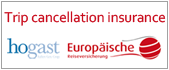 Occasionally, something can happen before the start of a trip. With our trip cancellation insurance you are financially covered. Should a booked stay at a hotel be delayed, or even not taken up or prematurely broken off, cancellation charges can be redeemed. In order to save you any expenses in such cases, we recommend you take out this trip cancellation insurance, with which you are covered by the Europäische Reiseversicherung's travel insurance.
Click here to take your personal insurance.