Terms and conditions
General conditions of contract under Article 1341 of the Italian Civil Code ( Codice Civile ), which is applied to accommodation contracts between the accommodation provider Fanes hut and the guests, namely the persons booking the accommodation.

Cancellation conditions according to Article 1382 of the Civil Code

1. For cancellation up to 30 days before the arrival date of the guest: the accommodation contract can be canceled without any cancellation fee by the host or by the Purchaser by unilateral written declaration.

2. If canceled by the guest or the Purchaser during the period between 30th days before the arrival date this will loose the requested deposit, no exception.

3. Cancellation must be effected by a written statement and be in the hands of the hut host within the above mentioned periods.

Duties in case of early departure of the guests
In case of early departure, the guest is obliged to pay the empty beds for the booked period not enjoyed.

Travel insurance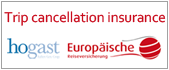 Occasionally, something can happen before the start of a trip. With our trip cancellation insurance you are financially covered. Should a booked stay at a hotel be delayed, or even not taken up or prematurely broken off, cancellation charges can be redeemed. In order to save you any expenses in such cases, we recommend you take out this trip cancellation insurance, with which you are covered by the Europäische Reiseversicherung's travel insurance.
Click here to take your personal insurance.